Fujisaki & Lab. History 2017.4~
pictures

2012-2014 pictures

2015 pictures

2016 pictures



"I must... should... may do it myself."
20180101@Home town







"Sensor demonstration here!"
20171221@Warasse, Aomori







"Poster presentation!"
JSME 30th Bioengineering conf. 12/14-15
20171215@Kyoto Univ.







"Good!"
in USA
20171106@Minnesota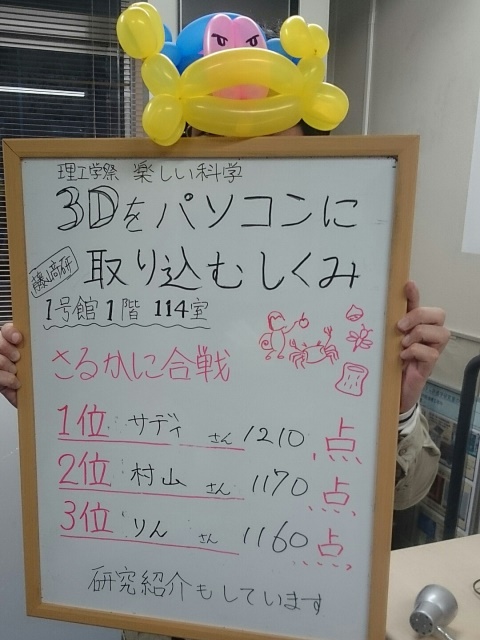 "Top 3!"
Daigaku festa
20171029@Hirosaki Univ.







"Harvest festival"
Inakadate Tanbo art
20171001@Inakadate







"Presenter after conf."
JSME Tohoku meeting
20170930@Hachinohe IT







"A new mission"
Aomori with Professors
20170929@Aomori







"Machine!"
Training of milling machine for Igarashi
20170919@109







"Tasks"
Joint Meeting of the Tohoku Area Chemistry Societies
20170916@Iwate Univ.







"The final night!" :0901





"After presentation" 0830





"USA life!" 0828
for InterPACK2017 with Prof. Sasagawa and Mr. Takaya (Sasagawa Lab.)
20170828-0902@San Francisco, USA







"Preparation for Open Campus"
Open Campus (0808)
20170807@Hirosaki Univ. room 114







"A summer day"
Bascketball game
20170729@Hirosaki







"A conscientious beginner"
Preperation for Tambo Art!
20170604@Inakadate






"Bascketball game with 1, 2, 4th company members"
20170527@Hirosaki city






"Ohanami party"
20170428@Hirosaki park







"Welcome party for new staff"
20170426@Hirosaki night







"Sakura festa night!"
20170425@Hirosaki park







"An unexpected huge success"
20170424@Hirosaki park







"New member"
20170412@Laboratory